In the world of fashion, adding some extra "bling" is often seen as the thing to do. It helps you stand out and set yourself apart from the rest. Whether it be something shiny, suave or expensive, it helps show your style.
Adding some bling to your vehicle wrap works for exactly the same reasons. We all know vehicle wraps are a great way to promote your business. Every time your vehicle is out in traffic it boosts your brand recognition and ensures you turn up to each job looking professional.
But with so many commercial vehicle wraps on the road these days, it's becoming harder and harder to stand out.
Let's look at some ways you can add a little extra bling to your vehicle wrap to bring it to the next level.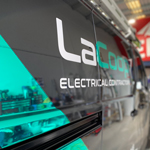 Super Chrome Vinyl
Whilst wrapping your entire vehicle in Super Chrome Vinyl looks amazing, it is costly and can be hard to take care of day to day. However, adding small 'pops' of this vinyl can really take your vehicle to the next level.
We're Currently Loving… Hexis Super Chrome Teal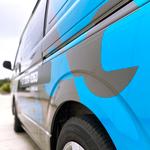 Glitter Metallic Vinyl
More forgiving than super chrome, you could wrap your entire vehicle in a glitter metallic vinyl to make a real impact. That said, adding touches of these vinyls can just add an extra layer of style to your vehicle wrap as well.
We're Currently Loving… Avery Gloss Eclipse Black
Matt or Satin Vinyl
Matt or satin vinyl can be tricky to take care of. But if you limit it to smaller amounts, it can have a greater impact, especially paired with a gloss vinyl. Matt Black + Gloss Black creates a great effect and adds a touch of sophistication to any vehicle wrap.
We're Currently Loving… Metamark Premium Matt Black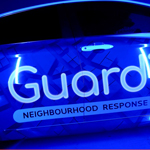 Reflective Vinyl
Reflective vinyl doesn't have to be saved for emergency services vehicles! A selective use of reflective vinyl is such a great way to make your vehicle stand out when the sun goes down. 
We're Currently Loving… Arlon IllumiNITE Conformable Reflective Vinyl 
Check out this awesome video of our most recent reflective wrap
As more brands continue to use their commercial vehicles as mobile billboards to grow their business, car wrap vinyl manufacturers are continuing to come out with great new vinyl products. Even just adding a touch of these to your next commercial vehicle wrap will ensure it stands out in traffic and gets attention focused on your business.
Next Steps…
Want to know more about how we can use vinyls to add bling to your commercial vehicle signage? Get in touch with us today or pop in to view our extensive range of options.