Increase Leads, Increase Conversions, Boost Your Business
Marketing is a catch-all term for all the different ways you create awareness and grow your business. You might be the best in your industry, but without the proper marketing, you will also be the industry's best kept secret. Successful marketing helps attract people to your business and keep them coming back time and time again.
Marketing is how you get people interested, but more importantly, excited about your business and its offering. We really love crafting campaigns with the sole goal of achieving better outcomes for you.
Designs You'll Love
So you know you will be happy
Honest & Real Advice
So you can have peace of mind
Get More Clients
So you can grow your business
Magic + Logic
So you can see unique campaigns that drive traffic
Launch Marketing
You have your logo, your business looks a million dollars, and you are ready to take on the world. But how do you get people to notice you? Don't sneak into the world unnoticed — you need to make a splash and make people pay attention to who you are, what you're offering, and why they need it.
Direct Response Marketing
Direct Response Marketing about lead generation. It's about offering prospects a compelling offer that encourages them to take immediate action, but the offer isn't necessarily about selling. The offer is something valuable, that educates. Think E-Books, downloadable PDFs, email automation sequences.
Relationship Marketing
Relationship Marketing is all about developing a deeper and more important relationship with your customers. The focus is on getting the consumers to trust you, choose you, and keep coming back time and time again. It's all about improving the customer experience and making you stand out from your competition.
What's so good about our marketing?
Magic + Logic: There's no one-size-fits-all approach to marketing your brand. We think outside the box (magic) to make sure your brand or product gets noticed. Using years of experience (logic), we'll craft a campaign that will draw in your target market and generate more business for your company.
How Can Marketing Support Your Business
Reach A New Audience
Sometimes, it can be harder to reach those potential customers who are just outside of your core target areas. Marketing helps you reach more people and acquire more business.
Build Relationships
Marketing attracts, engages, and educates your audience, which in turn, builds relationships. Building relationships builds trust in your brand and positions you as a reliable business, who they'll keep going back to.
Turn Your Customers Into Champions
Word of mouth might not be the be all and end all anymore, but it's still worth a whole lot. Customers who keep coming back? They bring friends with them.
Increase Your Customer's Value
With relationship marketing, your customers will just keep coming back. It means their lifetime value as a customer will steadily increase, but you only had to market yourself to them once.
Our Process in 4 Easy Steps
Ensuring your job looks amazing every single time.
Meet
We meet up to have a brainstorming session. Here we can work out if we are a good fit and can come up with a direction for your marketing
Design
Before we do anything else, we will quote you on the elements of your marketing plan. No nasty surprises!
Deliver
Once you give us the go-ahead, we'll get to work crafting a unique campaign designed to bring traffic to your door.
Review
Marketing is about testing and measuring. We will make sure we test the results and see what's performing and what isn't.
We know a bunch of other experts too
Like we said, there's no one master plan for any marketing campaign. It's all customisable. And the services we include? A super broad range of them, as broad as your imagination. Perhaps there is something we don't offer, but we know it will be vital to your success.
We're lucky to have connections with a range of trusted partners who are experts in their fields. Copywriters, social media strategists, photographers, video producers, SEOs, you name it — just ask.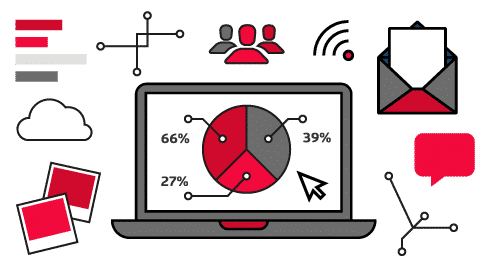 TESTIMONIALS FROM Real People We Help Soar
Let's make sure you look the part