It's on your to-do list, isn't it? Along with submitting your tax, hiring a new employee and updating your super details. There it is staring at you… you need to build a website for your business.
Integral to the success of businesses great and small, a website is the online portal of your brand for your audience. It is often the first place people will go to check you out to make sure you are legit. 
Creating a website can be immensely beneficial in today's digital age. You have the opportunity to expand your brand and boost revenue for your business. Not to mention you can connect with potential customers and create an engaging online presence. Setting up your own website is oftentimes seen as a daunting task, but with the right kind of help and support, it can be simple. Let's have a look at the steps you need to get online and go back to knocking off some other items on that never-ending to-do list.
Step 1: Choose a Website Host
Website hosting is a service which allows your website to be viewable on the internet. Every website needs hosting to be visible on the internet and many companies offer the service, enabling businesses to quickly and easily get their website up and running. 
With website hosting, you must pay for the service in order to keep your website available to users. It can be quite affordable, depending on what you need from the hosting provider. Depending on the hosting plan, you may get features like an SSL Certificate, storage and backups of the site. Website hosting companies often also handle your emails through services like Gmail or Outlook.
Important note…not all website hosts are created equally! Website hosting is a crucial component in setting up a website. By choosing the right provider, you can ensure the security and performance of your website. Speak to us before you go sign up with a hosting provider and we will give you some great recommendations to some local partners. 
Step 2: Plan your Content
In our experience, this is where things go off the rails and as a result, the website building process drags on longer than a wet weekend. Many make the mistake of jumping straight into the design at this point. Chill my friends… take a step back, this can come later. Let's do some planning first. 
Start with working out what pages you want on the website. This is called your Site Map. Have a look at all the services you offer and consider making a page for each service. This will allow for a greater amount of content and enable better targeting for your marketing efforts. That said… the more pages you add, the greater your budget must be! 
On Top of this, at the very least you will want a Home Page (a general overview of your entire site), an About Us Page (a overview of your business, your team and why you're so God-damn special) and a Contact Us Page (so they can reach out to you at any time). 
If you're feeling a little more adventurous, you could look at a work gallery page, a projects page or even a blog and/or resources page. 
In the end, you should end up with something like this…
Site Map Example for a Residential Electrician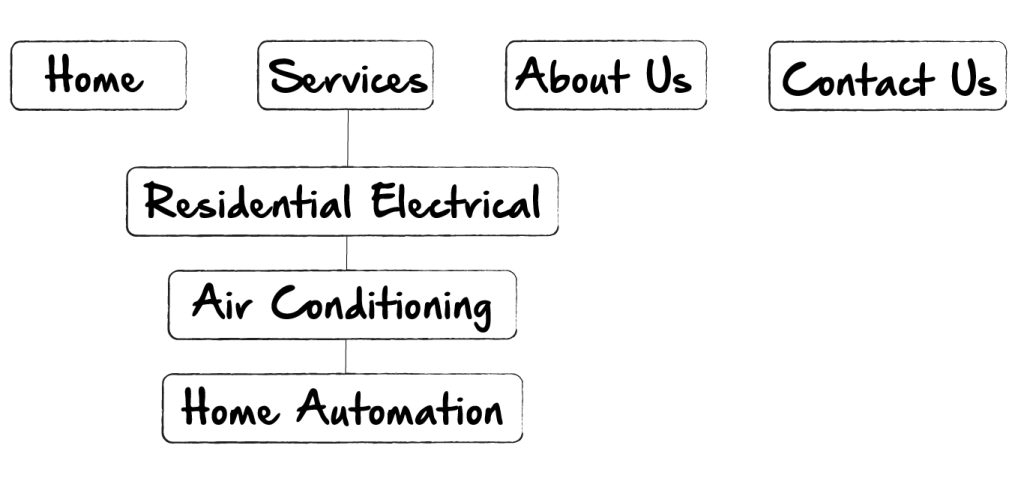 Step 3: Write Your Content
"Content? You mean words? But I wanna talk about what it will look like!"
Trust me… we are almost to the fun part, but let's stay on target here. Trust the process my friends, we will all be better off for it. 
I cannot stress this enough – don't write your own website copy. Even if your wife's best mate thinks she's a good writer, or your admin person got a B+ in English in the late 90s, leave it to the professionals. 
A website copywriter will take your Site Map from Step 2 and use it as a guide to build out the words for your website. They'll include the correct tone of voice (how you'll sound), SEO tags and phrases (for Google), short text areas (for easy reading and mobile viewing), calls to action, social proof and more. 
We include copywriting with all our website packages, so you don't have to worry about getting this right, it's all covered.
Step 4: Design Your Site
Yay! The fun stuff is finally here. Was it worth the wait? Yes…
Now you have your hosting sorted, site map done and content nailed, it's time to build the darn thing. 
Creating a functional website to meet your needs doesn't need to be complicated. Understanding the basics of website design can make the process easier and help you get the results you desire. From the initial planning stages and content creation to coding and design, the key principles underlying website design remain the same.
When designing the website, focus on the layout and structure that will guide the user. Consider how the user will reach different pages in the hierarchy of your website. A good way to help your website flow is to ensure there are clear menu options available and ensure that links are intuitive and easy to find. 
All good websites should have:
Clear navigation (so you can find your way around)

Strong calls to action (so you can convert visitors into customers)

Contact forms (so people can reach out to you)

Mobile responsive design (so the site looks good on all platforms)
In addition, writing clear page titles and meta descriptions will help with SEO optimisation and reinforce the message.
Step 5: Add Images and Video
The design is done, now it's time for photos, icons and video. Time to dive into your phone to see what photos your apprentice took last week whilst out on site. NO! 
How good your images are can really make or break your new website. You don't want a nice design with copy saying how great you are, only to have a crooked and blurry photo of that new kitchen you just built with a can of coke and half-eaten meat pie in the background. 
I get it – not every business can afford to get a professional photographer out to each site and take nice photos. 
For the main pages of your website, using professional stock images is a great solution. As long as they are a true reflection of the level of work you are doing, this is perfectly acceptable. If you have an Our Work section, this is where you can put your own photos (sans the meat pie). 
Video too is a great idea, but adding it can overload the site and slow it down when loading. Using an external host such as YouTube or Vimeo enables you to show the video on your site without the added storage space. 
Step 6: Go Live! 
Your website is done – it looks amazing. It's well written, navigates easily and the readers can get in touch with you at the click of a button. It's time to tell the world! 
Don't go in with a whisper – let everyone know you are online and in business. Announce it on your socials, send out a newsletter, add it to your email signature, put on your vehicles. You want to get as many people as possible to your new website. High amounts of traffic will help Google know you exist and your site is worth indexing. 
Step 7: Review Regularly
Once the dust has settled, return back to your site every 6-12 months for a quick review. Do your services still align with what you offer? Are the buttons all working as they should? Didn't Doris retire 6 months ago? We need to remove her…
Keeping your website content up-to-date is essential if you want to maintain a strong, successful online presence. Not only does fresh content help bring in new visitors, but it also sets you apart from your competition and can be a great way to show your expertise in your field.
Conclusion
Is a new website or updated website on your to-do list? Everyone wants to grow their business and make their mark, and this the perfect way to start. With the right strategies, you can step up your marketing game and attract new customers from across the web. 
Time to get started? Get in touch with Brand Hero today.