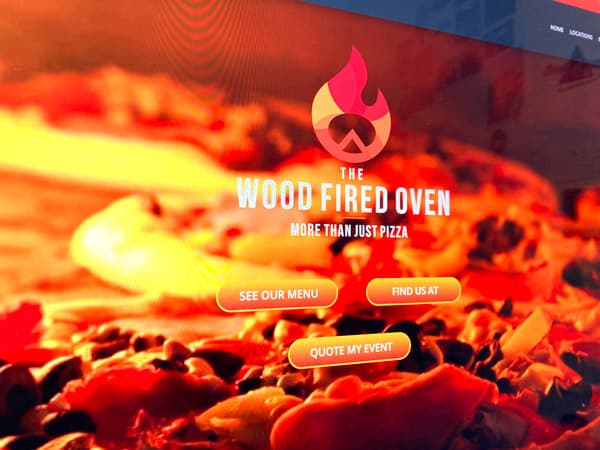 The Wood Fired Oven: A website overhaul to get business cooking
A website that does not display well on mobile devices, a website that is hard to navigate, or worse still, a website that takes too long to load and sees its visits bounce out before the page loads. These are all too common issues with many small businesses websites. 
Unfortunately for all-round nice guy Chris Gill at the Woodfired Oven, his website ticked ALL of these boxes. 
When Chris came to us a few months ago, he was armed with a website that just wasn't performing. Being a mobile food business, having clearly displayed location maps is key. Yet, these were not showing properly on mobile devices. With over 60% of his traffic coming from mobile, this was a big problem. In addition to this, his website was sluggish and took a lifetime to load. Not good when hangry. 
We were tasked with fixing this and adding some additional features to the site. It was then apparent that these cosmetic issues were just the tip of the iceberg. Built on a free WordPress theme with budget hosting, Chris's domain was littered with coding errors making the site slow to load and actioning some simple editing functions a nightmare. 
So with a little persuasion… Chris tore the bandaid off. We completely scrapped his site, switched to a local and reliable host, and got to work rebuilding the site. 
This is where having a good website host pays huge dividends. Having someone in your corner who can talk the talk, make careful and regular backups and get your site running at lightning speed is such a huge bonus for your company. Not all web hosts are made the same! 
Building on a new fresh platform, the new site was created in no time. It was fast loading, fresh and free of the mobile version errors that plagued the last website. 

And the result?
We upped his web speed from a sluggish 18 second load time to a speedy 2 seconds. The back-end was totally re-built so images loaded correctly and the viewing experience was vastly improved for both desktop and mobile. With his lead generation increasing by over 400%, needless to say, Chris is one happy customer.
Check out Chris' new site here
How is your website tracking? Does it look good on both desktop and mobile? Is it fast loading?
Give us a call today and we will do a free website audit for your business.  
Description of Works
Design:
"I couldn't be happier with what Brand Hero has done. They came in, understood my issues and took the bull by the horns to get it fixed. With no online marketing spend, our website enquiries have increased by over 400% –  a statistic I could only have dreamt of a few months ago. Thanks guys, you are lifesavers!"
Chris Gill – The Wood Fired Oven
Your Food & Hospitality Brand Specialists