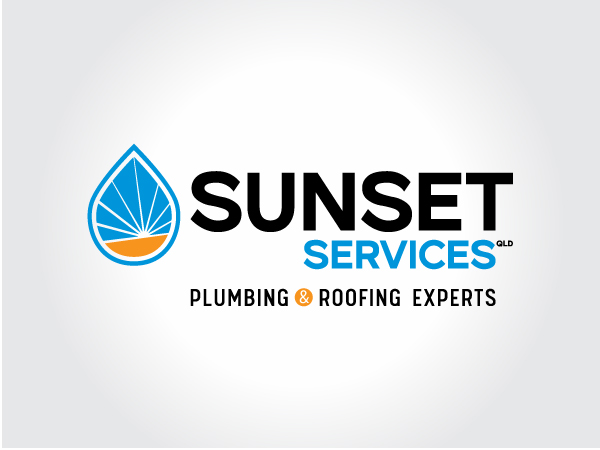 Sunset Services Rebrand
The wonderful Nicole and Alex Vanderzalm were already a well-established business when they came to us for a brand refresh. With the ever-competitive plumbing market booming in 2021, it was time to update their image.
Old Sunset Services Brand

The "Sunset" visual brand had dated as time went on. The combination of the font and gradient had created a look that was not in keeping with the times. This, coupled with a change in direction for the company meant it was a good time to change things up.
With many vehicles on the road, our brief was to create something that held some of the imagery of the old brand, but was fresh, modern and well translated onto the large artboard of a van or truck.
The Graphic
Unlike many of their competitors, Sunset Services main focus is on roof plumbing and maintenance. From gutters and downpipes to roof installations and repairs, it was important for us to communicate this with the audience. Our designer Erin was cleverly able to incorporate a waterdrop, roofline and the sun's rays neatly into one defined element.
The Colours, Fonts and Style
The colours of cyan blue and burnt orange are taken from their previous branding. Representing the sun and water which are key aspects of their work, this seemed fitting. It addition to this, using the previous colours reinforced the idea that although there is a new look for Sunset Services, it is the same company with the same strong values that their customers had become accustomed to.
And here are the final results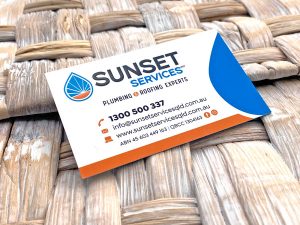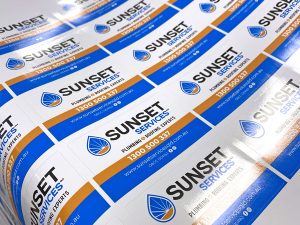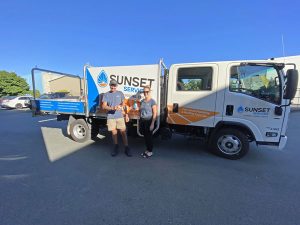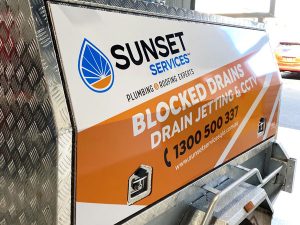 New Year, New You?
January is traditionally the time of year we look inward at the outward. Gym memberships get renewed, dieting apps are downloaded and meal-replacement shakes stock our cupboards.
It is also timely to ask yourself, how is your brand shaping up? Does it still reflect your business, who you serve and what you represent?
A rebrand can have amazing results for your business. A successful rebrand of a business can:
Connect you with new audiences
Set you apart from your competition
Allow you to stay current
Align you with a new business direction
Re-energise your team
Boost your bottom line
If you are in need of a brand refresh, get in touch today or book a meeting with our expert team to discuss your next steps.
Description of Works
Design:
Logo Design
Brand Development
Signage:
Truck Wrap
Trailer Wrap
Building Signage
A-Frames
Printing:
Business Cards
Shirts
Coolers
Stickers
"Erin did an epic job on a new design for our rebrand. We have now had vehicle signage, office signage, business cards and uniforms produced by Brand Hero. They make us look great from every angle…"
Nicole Vanderzalm – Sunset Services