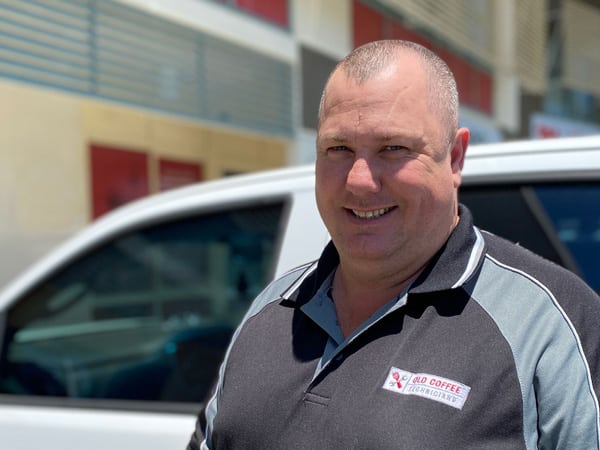 Qld Coffee Technicians: Consistent branding at every touch point
The onset of Covid-19 made for a rollercoaster 2020 for many local businesses, in particular cafés. Forced to adapt and reinvent the wheel, many cafés changed their business models. Whilst some floundered, others flourished – going from strength to strength and even doing better than they were in 2019.
And right behind almost every good café in South East Queensland was Billy Cochrane and the team at Qld Coffee Technicians (QCT). QCT played a huge part in the success of these businesses, ensuring every coffee grinder was dialed-in to perfection and every coffee machine was extracting the perfect drop each and every time. 
Recognising that clear and consistent branding was a big piece of the puzzle in the success of his business, Billy contacted Brand Hero to assist in the development of QTC's visual identity. 
Vehicle Signage
QCT has 6 vehicles on the road, servicing cafés from Noosa to Tweed Heads. Ranging from large commercial vans to smaller utes, each vehicle has been custom-fitted with a partial wrap to maximise his exposure on the road. Using an element from his logo as a watermark, this has become a feature of all the vehicles, ensuring a consistent look no matter what the vehicle make, model and size. 
Building Signage
A recent acquisition of commercial space near Caloundra is helping QCT better service the north coast market. To ensure the business creates a professional impression for its visitors, Billy engaged us to apply graphics to the external glass entry doors and windows. One Way Vision Vinyl was used on the windows for maximum impact from the outside, without losing light or visibility from the inside. The door was fitted with a branded frosting vinyl strip displaying the QCT logo. Making use of similar elements used on his vehicles, we have created a seamless branding experience for his customers and ensured a consistent look for the company across the two different media. 
Website
Realising that offline branding was only part of the story, Billy then engaged Brand Hero to undertake a revamp of his website.
With a rise in web traffic in the past 12 months, the website simply didn't reflect his business' professionalism and certainly wasn't leading to conversions. Starting with website copywriting, his online presence was completely re-evaluated. The new copy for his website was coupled with professional photos and a sleek and modern design, consistent with his vehicles and building signage. With many café owners being busy and "on the go", the mobile experience was optimised to suit his target audience's browsing preferences.
Printing
Whilst not playing a major role in brand development, Billy still required printed items for use in the business. Stickers, business cards and other collateral were developed, ensuring the look was in line with his other touchpoints in terms of fonts, colours and graphical elements. 
A 360-degree brand experience
People will come into contact with your company in different ways. Your website, social media, in your office, on the phone or via your products. Whatever touchpoint they use, it's vital that they encounter a unified presence. This ensures that your branding remains consistent and gives the impression that everything belongs to the same family or set. 
Do you need to unify your branding? Get in touch with us for a Brand Identity Audit today.
Description of Works
Printing:
Business Cards
Product Stickers
Stubby Coolers
Signage:
Ute Signage
Van Signage
Building Signage
Window Graphics
Design:
Website Development
Logo Design (Barista Equip)
"Having Brand Hero look after the various aspects of QTC ensures we are displayed in the best possible light to our customers and audience. Thanks Brand Hero."
Billy Cochrane – Queensland Coffee Technicians
Your Food & Hospitality Brand Specialists